National
and
State
World
History
Standards
---
World History for Us All is designed for middle and high school educators across the United States, as well as in other countries. It does not specifically correlate with the content standards for public schools in any particular state. However, teachers in all states, whether in public or independent schools, will find numerous Teaching Units and other elements of the curriculum that they may use profitably in their classrooms. We encourage teachers and schools to explore ways in which the model curriculum, or any part of it, may be adapted to the standards, frameworks, or essential elements for history-social studies education in their state or school district.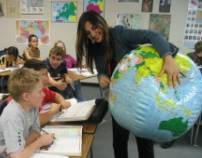 History educators may consider adopting World History for Us All intact as their fundamental program syllabus for one or more school years. They may wish to adopt the curriculum's structure and approach but redesign and supplement it in various ways. Or, they may incorporate selected conceptual elements or instructional materials into their existing curriculums. Determining how best to use World History for Us All is likely to depend on the degree of flexibility that teachers and schools have in choosing historical content and thinking skills to be taught. This flexibility varies greatly from one state or school to another:
Teachers in states where world history courses are elective or where official standards are either voluntary or lacking in prescribed content may have freedom to decide at the school or department level how to adopt or adapt World History for Us All.
Educators in independent schools aiming to redesign or improve their history-social studies program (for example, switching from a traditional Western Civilization program to one that is global in scope) may consider adopting World History for Us All as their overall curricular plan.
In states where standards rich in historical content are prescribed, and especially where student knowledge of that content will be formally assessed, teachers may investigate innovative ways to adopt a modified version of World History for Us All to fulfill state or district standards requirements. Or, they may select particular teaching units or other elements of the model curriculum to help students achieve standards competency.
Educators teaching Advanced Placement World History, which has its own scope, sequence, and content guidelines, may nonetheless find a rich store of pertinent teaching materials in World History for Us All. In terms of their general approach to the global past, the two programs are highly compatible.
The conceptual approach of World History for Us All owes its inspiration to the National Standards for History more than to any other pedagogical resource. These guidelines, first published in 1994, have influenced the development of history-social studies standards in many states and have provided a framework for several history education projects. The National Standards were designed to serve as a comprehensive tool for developing high-quality history education programs in American public schools, and not as a specific course outline or definitive narrative.
As a model curriculum, therefore, World History for Us All does not compete with the National Standards but draws on them as a major source of ideas. A comparison of World History for Us All with the National World History Standards for Grades 5-12 reveals many similarities in conceptual approach and organizational structure. For example, both resources organize the human past into nine major chronological eras, though World History for Us All gives greater attention to early human history. Also, World History for Us All has adopted the Standards in Historical Thinking from the National Standards without modification.
Many state history-social studies standards call upon public schools to organize the study of world history around global-scale chronological eras, to emphasize interactions among peoples and societies, and to integrate history and geography education. These recommendations are all key features of World History for Us All, though not of most commercial world history textbooks, which make separate civilizations and regions the primary units of study.
An excellent companion to World History for Us All is Bring History Alive!: A Sourcebook for Teaching World History. This treasury of scholarly essays and hundreds of teaching activities is correlated to the National World History Standards. Educators may order the book through the National Center for History in the Schools.